A new place for yoga in Camborne
–
We wanted to create something new in Camborne where people could come and meet and bend, so they don't break.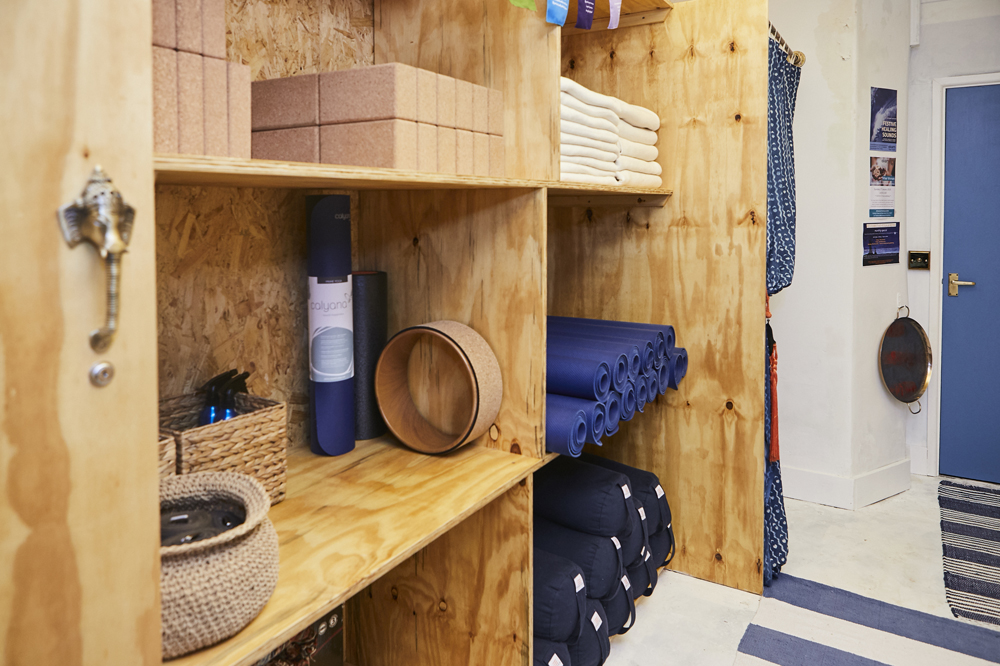 Ekam
68 TRELOWARREN ST
Camborne
Cornwall

TR14 8AH
_
2019/2020 courses & workshops
NEW FULL TIME TABLE LIVE SOON - STARTS MONDAY 9TH SEPTEMBER
Yoga & Meditation retreat 2020 - KOSHAS
February can be a somewhat dreary month in the Northern hemisphere, so what better way to make the transition a little easier by escaping to the sunshine and warmth, lubricate those joints and explore a new part of the world!
Retreats are a great way to relax and rejuvenate, take some time for yourself and deepen your yoga practice in a nourishing environment. All classes are suitable for everyone of any age and level. The focus of the week will be the Koshas; the subtle energetic elements of the body. We'll move through each layer throughout the week with two daily practices, in the morning and the late afternoon; all while being nourished with freshly prepared meals and luxury accommodation in the jungle.
If that sounds enticing, do keep reading for more details - and if you're curious, want to join or simply have a question, do get in touch!
Delving in to the world of the Koshas
When: 8-15 February 2019
Where: Midigama, Sri Lanka
The Retreat
Also known and referred to as the 'teardrop of India', we want to expand and explore horizons with tranquillity and ease, moving close to the birthplace of yoga by inviting you to a week of relaxation, self enquiry and most importantly, a bit of joyful play!
Over the course of the week, we'll be interweaving the theme of the 5 koshas - energy sheaths or layers - of our beings. It is said in yoga that we all embody 5 energetic layers that constitute our physical, mental and spiritual bodies. The 5 sheaths are Annamaya Kosha (physical body), Pranamaya Kosha (energy body), Manomaya Kosha (mind body), Vijnanamaya Kosha (intuitive body), and Anandamaya Kosha (bliss body). Each of these are connected and act/react with one another. From the physical and mental impressions we receive daily, the lasting impressions that create predispositions, all the way through to the more subtle intangible, intuitive energies. We'll be looking in to these as a way of improving your relationship with your sense of self, your body and how that may reflect & affect your life in general.
An idea of a typical retreat day
7:30-9:00 Sunrise Yoga
A tailored yoga class for those early mornings; to help flow your way into the day, making you feel energised and grounded.
9:30 - 11:00 - Brunch
11:00 - 16:00 - Free time to go on an adventure, relax by the pool, visit a local village, go for a surf; 'you' time.
16:00 - Afternoon tea & snack
17:30 - 19:00 - Sunset yoga
Moving with the elements, dusk & dawn are seen as the best time for dhyana & looking inward. Time to stretch out those physical bodies and relax the mental bodies. Yoga Nidra, restorative, slow flow.
19:30 - Dinner
What's included?
6 days / 7 nights accommodation
2 yoga/meditation classes daily
2 meals & a snack daily
Unlimited tea & coffee throughout the day
Cost: £680 shared accommodation
£880 single occupancy
Travel Info
The nearest airport is Colombo - a 2.5 hour drive away; the easiest way to travel to the estate is by pre-booked taxi
Visa requirements - For UK passport holders it is required to get a visa (30 days) for Sri Lanka - http://www.eta.gov.lk/slvisa/
Recommended vaccines - Hepatitis A, Polio, Tetanus, Typhoid
PLEASE NOTE - due to the nature of the luxury accommodation we will need a minimum of 4 people to confirm by September in order for the retreat to go ahead; full refunds will be issued if it does not. Payment plans are also available!
An initial 50% deposit will be required to secure your place.

For further information, questions, concerns please get in touch either through hello@ekamstudio.co.uk
Foundation yoga course (8 weeks)
Wednesday 6:30- 7:45 - next course starts September 11th 2019
ekams foundation course is an ideal introduction to lay the foundations for a strong and healthy yoga practice in a safe, friendly and informative environment. It's ideal for beginners and perfect for those looking to revisit the fundamentals of yoga.
The practice builds week by week, introducing you to the yoga postures in a methodical and sequential way to gradually open the body-intelligence and enable strength, flexibility and relaxation by releasing muscle tension. Our courses will focus on the standing & seated postures, covering forward bends, twists and backbends, & and finish with meditation & relaxation.
Yoga is a discipline of aligning with the pulsation and flow of Life. It is a path of Union or integration with our highest Selves. Integration of masculine and feminine; of light and dark; of body, mind, spirit and heart is paramount to practice.
(this course is not suitable for pregnant or post-natal students)
Pregnancy Yoga
starting TUESDAY 10TH September 6-7pm
drop in £8 or 5 classes for £38 or 10 £75
Why yoga in pregnancy?
Creating a sense of wellbeing for you and your baby is crucial at this time. Pregnancy yoga is an ideal way to take that time to really nurture your body and baby. Yoga helps you develop a mind-body awareness, whilst strengthening and toning your muscles ready for birth, through guided postures. Creating alignment in your spine and pelvis will aid your baby to settle into a comfortable position for birth. You will learn simple ways to relieve those discomforts in pregnancy, and promote good circulation.
What do we do?
- we use gentle movement to connect with our body, practicing useful positions and techniques for labour
- learn and practice simple breathing techniques to use through the different stages of labour
- visualisation and affirmations to enable you to stay calm and confident through the birth process
- we always end with a lovely relaxation to connect with your baby and enable you to have deeper more restful sleep
- you will develop a calm sense of wellbeing helping you feel empowered to make your own choices as you move towards birthing your baby
What do we talk about?It's really led by the group and what you need each week, depending what comes up for you but topics can include…
The phases of labour, Coping with labour, Creating your birth space
Moving and opening your body to birth
Pain relief – the pros and cons
Writing a birth plan
Making informed choices & giving consent
Induction and interventions – what are your choices?
Using the rebozo and 'Spinning Babies' to help your baby and body to work together in birth
Birthing the placenta
Vitamin K choices
Birthing after Caesarean
Life with a new baby
Breastfeeding,
Creating a Positive Birth Experience…however the journey unfolds.
Restorative yoga & yoga nidra
2 hour monhtly special
Friday August 2nd, Sept 20th, Oct 18th, Nov 22ND, Dec 13th 18:30-20:30
Restorative yoga is a practice that is all about slowing down and opening your body through passive stretching & breathing. You'll hardly move at all, doing just a few postures in the course of an hour. It is a completely different experience than most contemporary yoga. Deeply nourishing for the body, mind & soul.
Yoga nidra or yogic sleep is a state of consciousness between waking and sleeping, like the "going-to-sleep" stage. It is a state in which the body is completely relaxed, and you become systematically and increasingly aware of the inner world by following a set of verbal instructions.
Suitable for all ages & abilities. The studio is fully equipped & will provide all you need, please arrive 5/10mins before the class starts to get yourself warm, sung & prepared. Please wear something comfortable, feel free to bring a jumper & socks. Yummy tea & home made treats served after the practice, with time to chill, talk & meet the group. The perfect way to end your week & start your weekend.
Fridays - 6:30-8:30pm - 10 places available - £15 pp
SOUND BATH - 7-8:30pm
Friday TBC
The gong is an ancient instrument for raising consciousness, ceremony & healing. It represents the primordial sound vibration 'AUM', which has the potential to lead us to inner silence. Ali guides you to settle, relax and breathe into the space before setting your sankalpa (intention) for the session. Laying snug and supported in shavasana there is nothing more for you to do; just surrender into an ocean of sacred sound, created by the majestic gong as well as singing bowls & elemental instruments.
As we bathe in sound the brain waves entrain, moving towards states of consciousness such as deep relaxation, meditation and insight. The body feels every vibration and frequency, responding to the living tones of the gong; its rhythms are harmonised, tensions unravel and life force flows more freely.
The gong sound bath can be highly effective in pain relief, coping with stress, emotional balance & spiritual growth … to name a few of its diverse benefits.
All are welcome – no experience of sound healing, yoga or meditation is required. Please speak to Ali beforehand (07855402837) if you are pregnant or have sensitivity to sound, about recent surgery with metal implants or with any other health concerns.
Please wear comfy, warm layers and be well hydrated to practise, avoiding heavy meals before the sound bath. All equipment is provided for you at ekam yoga studio: yoga mats, bolsters, blankets, eye pillows & cushions for your head.
Fridays - 7:00-8:30pm - 10 places available - £12 pp
many ways to keep up to date with new courses, workshops & special events. COME & JOIN US…
Classes
_
Yoga has many different styles and there will always be a class to suit you at Ekam. Click on the pictures below to find a yoga style for you and check out the timetable for class times
Hatha
Hatha is also translated as ha meaning 'Sun' and tha meaning 'Moon'..
Beginners
Over 8 weeks you'll cover the basics of yoga to build confidence..
Pregnancy, POst natal and kids
More information coming soon on our pregnancy, post natal and kids yoga..
Restorative
Restorative yoga is a delicious way to relax and soothe those weary muscles..
Yin Yoga
Yin yoga directs stimulation deeper into the muscular tissues..
Sound Bath
As the name suggests, this class is an immersion in beautiful sounds..
Flow
All Flow classes are based on breath and movement..
Yoga Nidra
Yoga Nidra translates directly to 'yogic sleep' and is a state of consciousness..
Seniors (60+)
No matter how much we age, the benefits of yoga remain the same..
Workshops and retreats
We run a series of workshops and retreats through the year, for when you really need to stop the world and get off for a while.
Etiquette
So it's your first time going to yoga class, and you fear you'll feel out of place. And sure, walking into a yoga class for the first time can feel intimidating, especially if you're not sure what to expect.
One way to help calm your pre-class worries is to learn a thing or two about yoga etiquette, and the general ins and outs of a typical studio ahead of time. Glance through these tips, and then enjoy the full yoga experience! You'll be set to go like you've been yoga-ing for years.
Arrive Early
Usually, arriving a good 10 minutes before class starts is appropriate. Give yourself enough time to arrive at the studio, hang up your coat, take off your shoes and socks, and turn off your mobile phone. You'll need to sign in and pay for class, which often involves a bit of paperwork if you're new to the studio. You'll also want to give yourself a few extra minutes to lay out your mat, gather props, and bring your breath to an even and steady pace. After all, it's pretty challenging to get centered if you're racing in just as class is getting started, and there's little worse than being the cause of a disruption when everyone has just begun to relax. Usually, arriving a good fifteen minutes before class starts is appropriate (not too much more, as sometimes the teachers need prep time, or a prior class may still be going on in the studio). What should you do if you ARE late and class has begun? Anything over 10min is usually unsafe for you to start. Most teachers don't mind if you slip in silently and take a place in the back. No one should be too uptight. It is yoga, after all.
Turn off Your Electronics
Phones, wrist watches, iPads—anything that dings, rings or buzzes—should be turned off. Want to know what can get all eyes on you in a yoga class faster than a no-handed headstand? Phones, wrist watches, iPads—anything that dings, rings, or buzzes please switch all devises off or on plane mode before class starts. Even that dangly necklace that your kids made for you that jingles as you move shouldn't make its way into the practice space. Leave anything that makes noise but doesn't breathe outside of the studio. Not only do you not want to distract others, but you want to be totally present in class without the outside world demanding your attention.
Use a Tissue
If eye pillows are available for use in shavasana (final relaxation), there are most likely tissues for your use as well. Place the tissue between your eyes and the pillow to protect those peepers and keep things sanitary.
Be Aware of the Space You Take
Though the teacher often moves around the room and does demonstrations from various places in the studio, be aware of where you're placing your mat so you don't sit yourself directly in front of someone else. It is common courtesy to stagger yourself so that the person behind you has a clear view of the teacher.
Um…Don't Smell-up the Room
I'm not suggesting you be concerned with body odor—actually quite the opposite. Be concerned about perfumes. Often, those in that yoga class with you are on the natural path, and the smell of commercial lotions and perfumes make some people sick (literally). Try to go au naturel, or if you really would like to smell better without being offensive, drop a dab of essential oil onto your wrists. Please NO aerosols in the studio, changing room or loo.
Don't Chat with the Person Next to You
Sure, make friends with your yoga neighbours because, after all, yoga is all about "uniting," right? Often the yoga studio is a prime gathering space for like-minded folks, but keep the chatting in the coatroom. Once you enter the studio, it's time to turn inward, so don't be offended if that uniting you were yearning for isn't happening when you're on your mat. Many students relish practice as a time to turn inward and become centered, and the time in the studio before, during, and after class is to some a sacred time to ¨stay on your mat.¨ Plus chatting during class is distracting and even dangerous when challenging poses are being taught and people need to stay focused.
Ask Questions Mindfully
You might wonder if it's okay to ask the instructor a question during class. This really depends upon the teacher. Generally YES we encourage mindful questions, if you're in a setting where the teacher is the only one speaking, respect that atmosphere in a way that still allows you to get the most out of class. If you have a question that needs answering, by all means ask it, but aim to get the attention of your teacher discreetly so that they come over to your mat, and you can ask them one-on-one.
Head Faces the Front at the End (top of your mat)
During the last pose of the class, shavasana, some people spin around so that their feet are facing away from the teacher and their head is pointing toward her. Though many people don't take this position on the mat, at EKAM & in many parts of the world, it is widely done to show respect for the teacher.
Clean Up
EKAM has spray bottles available to clean off the mats at the end. Spritz (usually a mixture of a few drops of lemon grass & tee tree oil diluted in water). ¾ Spritz over mat, then wipe the mat down post-practice (especially if the mat you were using isn't your own). Put away all props neatly and where you found them. The few extra seconds it takes each student to stack the blocks so they don't tip, roll the mats so they are even, and fold the blankets saves lots of time for the instructor.
Practice Ahimsa
Being gentle in voice, movement, actions, thought, and attitude respects those who come to yoga for a safe, uplifting, truthful environment. Practicing non-violence (ahimsa in Sanskrit) at the studio means coming into the space in a peaceful way. Gossip, angry complaining, and negative attitudes are best left for the gatherings around the water cooler at work. Instead, being gentle in voice, movement, actions, thought, and attitude respects those who come to yoga for a safe, uplifting, truthful environment. Hopefully, this gentle way of approaching and being will dissipate negativity not only during yoga class but at the water cooler and other areas of life as well.
Your Response Is Noted
Often, at the close of class, the teacher will bow their heads and say "namaste" to the class. If it moves you to do so, you would respond with "namaste" back. You may notice the other students around you saying it as well. Namaste is your teacher's way of saying they honour the divinity in you. Your saying it back says you honour the divinity in them too.
Take What You Learned with You
Hopefully, your focus in class has little to do with etiquette and rules and much more to do with gaining a better understanding of both the practice and yourself. Most likely, you'll feel a great sense of invigoration, peace, relaxation, and inspiration after class. If this is the case, there isn't a better way to show gratitude to the teacher and honour the practice than to spread this sense of peace to others throughout your day.
Data Protection & GDPR
This is the data protection policy of ekam studio.
Introduction
ekam studio is committed to being transparent about how it collects and uses the personal data including, in particular, the data of our employees, suppliers, and actual and potential clients/customers of our services. This policy applies to the personal data of all such persons.
Data Protection Principles
ekam studio processes personal data in accordance with the following data protection principles:
ekam studio processes personal data lawfully, fairly and in a transparent manner.
ekam studio collects personal data only for specified, explicit and legitimate purposes.
ekam studio processes personal data only where it is adequate, relevant and limited to what is necessary for the purposes of processing.
ekam studio keeps accurate personal data and takes all reasonable steps to ensure that inaccurate personal data is rectified or deleted without delay.
ekam studio keeps personal data only for the period necessary for processing.
ekam studio adopts appropriate measures to make sure that personal data is secure, and protected.
ekam studio tells individuals the reasons for processing their personal data, how it uses such data and the legal basis for processing via this policy. It will not process personal data of individuals for other reasons. Where ekam studio relies on its legitimate interests as the basis for processing data, it will carry out an assessment to ensure that those interests are not overridden by the rights and freedoms of individuals.
The Legal Basis on Which We Hold Personal Data
We hold personal data under the following permitted reasons provided by the GDPR - so one of these reasons will apply to your data:
(a) Consent: the individual has given clear consent for ekam studio to process their personal data for a specific purpose, for example: the client has input their details via Tula to attend our studio/make use of our services; emailed us to join our mailing list; signed up to our newsletter; Teaches or offers services to clients at ekam studio
(b) Contract: the processing is necessary for a membership contract ekam studio has with the individual, or because they have asked you to take specific steps before entering into a contract.
(c) Legal obligation: the processing is necessary for ekam studio to comply with the law (not including contractual obligations).
(d) Vital interests: the processing is necessary to protect someone's life, for example, next of kin data / emergency contact data in case of emergency.
(e) Public task: the processing is necessary for ekam studio to perform a task in the public interest or for our official functions, and the task or function has a clear basis in law.
(f) Legitimate interests: the processing is necessary for ekam studio's legitimate interests or the legitimate interests of a third party unless there is a good reason to protect the individual's personal data which overrides those legitimate interests.
Individual rights
As a data subject, individuals have a number of rights in relation to their personal data.
Subject access requests
Individuals have the right to make a subject access request. If an individual makes a subject access request, ekam studio will tell him/her:
whether or not his/her data is processed and if so why, the categories of personal data concerned and the source of the data if it is not collected from the individual;

to whom his/her data is or may be disclosed, including to recipients located outside the European Economic Area (EEA) and the safeguards that apply to such transfers;

for how long his/her personal data is stored (or how that period is decided);

his/her rights to rectification or erasure of data, or to restrict or object to processing;

his/her right to complain to the Information Commissioner if he/she thinks ekam studio has failed to comply with his/her data protection rights; and
whether or not ekam studio carries out automated decision-making and the logic involved in any such decision-making.
ekam studio will also provide the individual with a copy of the personal data undergoing processing. This will normally be in electronic form if the individual has made a request electronically, unless he/she agrees otherwise.
To make a subject access request, the individual should send the request to rosie@ekamstudio.co.uk
In some cases, ekam studio may need to ask for proof of identification before the request can be processed. ekam studio will inform the individual if it needs to verify his/her identity and the documents it requires.
ekam studio will normally respond to a request within a period of one month from the date it is received. In some cases, such as where ekam studio processes large amounts of the individual's data, it may respond within three months of the date the request is received. ekam studio will write to the individual within one month of receiving the original request to tell him/her if this is the case.
If a subject access request is manifestly unfounded or excessive, ekam studio is not obliged to comply with it. Alternatively, ekam studio can agree to respond but will charge a fee, which will be based on the administrative cost of responding to the request.
A subject access request is likely to be manifestly unfounded or excessive where it repeats a request to which ekam studio has already responded. If an individual submits a request that is unfounded or excessive, ekam studio will notify him/her that this is the case and whether or not it will respond to it.
Other rights
Individuals have a number of other rights in relation to their personal data. They can require ekam studio to:
rectify inaccurate data;

stop processing or erase data that is no longer necessary for the purposes of processing;

stop processing or erase data if the individual's interests override ekam studio legitimate grounds for processing data (where ekam studio relies on its legitimate interests as a reason for processing data);

stop processing or erase data if processing is unlawful; and

stop processing data for a period if data is inaccurate or if there is a dispute about whether or not the individual's interests override ekam studio legitimate grounds for processing data.
To ask ekam studio to take any of these steps, the individual should send the request to rosie@ekamstudio.co.uk
Data security
ekam studio takes the security of personal data seriously. ekam studio has internal policies and controls in place to protect personal data against loss, accidental destruction, misuse or disclosure, and to ensure that data is not accessed, except by employees in the proper performance of their duties.
Data breaches
If ekam studio discovers that there has been a breach of personal data that poses a risk to the rights and freedoms of individuals, it will report it to the Information Commissioner within 72 hours of discovery. ekam studio will record all data breaches regardless of their effect.
Individual responsibilities
Clients
Individuals are responsible for helping ekam studio keep their personal data up to date. Individuals should let ekam studio know if data provided to ekam studio changes, for example if an individual moves house or changes his/her bank details.
Teachers and Directors
ekam studio Teachers and Directors may have access to the personal data of other individuals / clients in the course of their work at the Studio. Where this is the case, ekam studio relies on the individual Teacher to help meet its data protection obligations for clients, as outlined below.
ekam studio Directors, Teachers and individuals who have access to personal data are required:
to access only data that they have authority to access and only for authorised purposes;

not to disclose data except to individuals (whether inside or outside ekam studio) who have appropriate authorisation;

to keep data secure (for example by complying with these rules on to access personal data, from ekam studio's premises wit access to data, secure password protection, secure login of the tula site and app for ekam studio purposes, and not storing any client data);

not to remove personal data, or devices containing or that can be used without adopting appropriate security measures (such as encryption or password protection) to secure the data and the device;

not to store personal data on local drives or on personal devices that are used for work purposes; and

to report data breaches of which they become aware to Rosie Blake, Director, ekam studio, immediately. hello@ekamstudio.co.uk
Failing to observe these requirements may lead to dismissal of the Teacher from ekam studio schedule. Significant or deliberate breaches of this policy, such as accessing employee or customer data without authorisation or a legitimate reason to do so, may constitute gross misconduct and could lead to dismissal without notice.